Valve Packers
Air Pressure Valve Packers - Models A1000, A700 valve baggers - Air pressure valve packer is an economical, accurate, and a reliable valve bagger.  These valve packers are for packing fine, medium and coarse dry materials.
Atmospheric Valve Packers - Models A660, A650 valve baggers - Atmospheric valve packers use consistent head pressurized air to fluidize powdery, fine granular materials in order to maintain consistent weights for bag filling.
Impeller Valve Packers - Models IE2000, IP2000 valve baggers - Impeller valve packers are designed for lighter weight bulk density materials that tend to aerate when filled.
Screw Valve Packers - Models S2400, S2200 valve baggers - Screw valve packers are designed for a wide range of bulk materials, including sticky and non free-flowing materials.
Other Products
VIC Systems International has a complete line of Accessories that can add efficiency to your operation. These include conveyors, operator seats, bins, hoppers, blowers, and bulk bag fillers. Call us today at 800-255-0445 or send an email to sales@vicsystems.net for a no obligation quote.

BB201 Electronic Bulk Bag Filler
THE BB201 ELECTRONIC BULK BAG FILLER is a ruggedly designed, economical and efficient "work horse" for simultaneously filling bulk bags to a predetermined weight. To start the bulk bag filling station, the operator places an empty pallet on the adjustable shelf and places an empty bulk bag on the unit; the neck of the bag fits over the filling spout and is held with an inflatable collar. The operator enters the target weight in the controller, and inflates the filling spout sleeve to prevent dust from escaping. The operator then presses the start button on the controller; when the target weight is reached the slide gate instantly closes. The BB201 Bulk Bag Filling Station is economical, accurate, and a reliable heavy duty bulk bagger.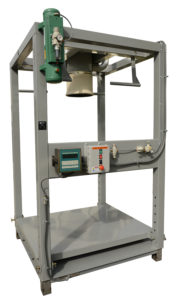 Standard Features
Inflatable neck sleeve to seal against dust escaping
Double wall spout allows displaced air to escape and collect dust
3" dust collection connection
Adjustable platform for filling various sizes of bags
Self-contained unit
Extremely user friendly controller
Optional Features
Two speed filling
Pre-fill bag inflation
Vibrating Compaction Platform
What equipment is best for YOU? Fill out the quick survey below and email it to us as sales@vicsystems.net!